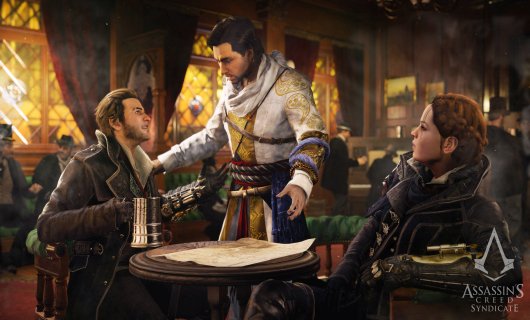 Ubisoft hat Patch 1.04 für Assassin's Creed Syndicate veröffentlicht. PC-Nutzer dürfen sich besonders freuen, da die Performance verbessert wurde. Neben der Performance wurden viele Bugs und Fehler behoben die ihr hier gleich nachlesen könnt.
Assassin's Creed Syndicate Update
PC
- Added DLC - The Last Maharaja support
- Fixed "Jack's message" puzzle issue
- Fixed crash in World War I mission
- Fixed crash on Title Screen when downloading Jack The Ripper
- Fixed geometry corruption on Intel integrated GPU
- Fixed TXAA shaking
- Fixed several render issues
- Fixed several UI issues
- Fixed few online issues
Please refer to this update about SLI Performance issues.
Online
- Fixed an issue where glitches might fail to award the player Helix rewards
- Fixed an issue where the permanent XP Boost from the Season Pass would not be present in some cases
World/3D/Menu/HUD
- Fixed a typo with the Military Chapel's bombing description
- Fixed an issue where the "Legendary Assassin kukri" would appear uncrafted and unusable after crafting it
- Fixed an issue with some achievements unlocking when they should not
Mission
- Fixed an issue in the "A Night to Remember" mission where the user could be stuck outside the vault in some rare cases, leaving no possibility to progress further
- Fixed an issue, in the "Jack the Ripper" DLC, in the "Jack's Lieutenants" mission where the objective would not update
- Fixed an issue, in the "Jack the Ripper" DLC, in the "Letter of Intent" mission where it could fail without a desynch in some specific cases
Stability/Performance
- Improved performance and stability
Weiterführende Links: